A New Home by Graham Fisher MBE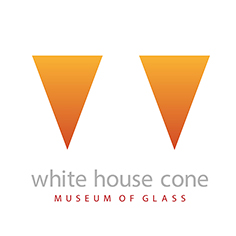 On a balmy summer's evening of Friday 22nd June 2018 I was delighted to be invited as Guest Speaker to address a gathering of around 45 volunteers and supporters at the new White House Cone museum of glass in Wordsley, Stourbridge.
The aim of the evening was twofold; to thank existing volunteers and to welcome the new tranche of good folk who have recently joined the cause. An unofficial third reason, I suspect, was to have a great time amongst like-minded friends.
My presentation 'A new home' offered an overview of the Stourbridge glass industry combined with a review of events to date in the work of the British Glass Foundation (BGF) to create a new world-class facility from the remnants of the former Stuart Crystal site that closed for the last time in 2001. But the star of the show was surely the preceding superb fish and chip supper and amazing 'puddings table'  that got us all off to a flying start. Lovely stuff; someone clearly worked very hard on pulling that one together.
My sincere thanks to all concerned for their warmth of welcome and enthusiastic appreciation, but especially to Volunteer Coordinator Julie Nicholls and Resident Glassblower Allister Malcolm who worked tirelessly with their colleagues to put on a memorable gathering.
---
Julie Nicholls tells us: 'A pleasant evening was had by all in no small measure due to the work of a hardy band who gave their time beforehand to weed outside the museum entrance, move furniture, and prepare the public spaces for us to eat in. A healthy profit of over £300, which will be donated to BGF funds, was generated by ticket sales and the generosity of the same small group who provided puddings, flower arrangements and raffle prizes all at their own expense. The evening could not have happened without the volunteers and their willingness to get stuck in and I am immensely grateful to all of them for their help and support'.
---
A full report will be appearing in the next edition of GlassCuts, the email bulletin of the British Glass Foundation. To become a volunteer, to learn more about the work of the BGF or simply to receive GlassCuts free of charge, contact  direct via bgf@britishglassfoundation.org.uk
LATEST NEWS